The curious case of Rising Phoenix

Simonsens, November 11, 2013
Translated by: Markuz


It's been two weeks now since Assassin's Creed IV: Black Flag was early released and with it, unexpectedly, a dear friend of ours has returned to the surface: AC Rising Phoenix. Once you have access to the second level of the offices of Abstergo Entertainment, you will have access to an area where you can see, on the back of a shelf, a small texture depicting a poster for Assassin's Creed: Rising Phoenix.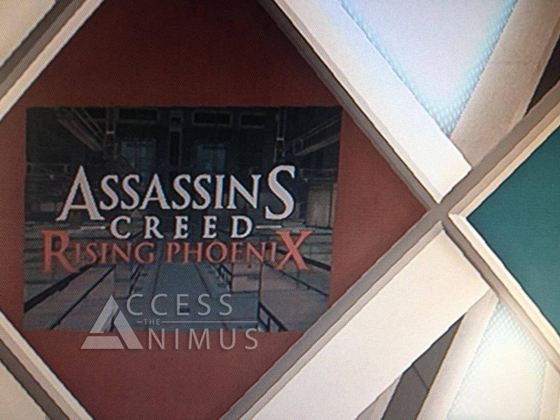 This Easter Egg immediately created an instant response from the fans, who have been waiting for news about the title for a long time and now that they had surrendered to the idea that it was all a hoax. In fact it is from March that there have been no news, and the silence on Ubisoft's side, especially in the time of the great gaming expos, had broken down the expectations of most people, but as, just after finding the hope back, November 4th came, an article by Assassin's Creed Center came to put a definitive "enough" to the situation. They in fact published an article entitled "żLa verdad sobre Assassin's Creed: Rising Phoenix?" Namely: 'The Truth about Assassin's Creed: Rising Phoenix'.

The article in question shows, chronologically, all the events that have characterized the rumors on the title. We present below a summary / translation of the events:

March 8rd, 2013 - It's nothing less than IGN to publish the first image of Rising Phoenix. This screen, now famous, would seem to represent an Erudito den and it's clearly visible that the picture is certified property by Ubisoft Digital Arts, a section of the French software house, which took care of AC: Embers. The article points out that ultimately, however, the image was published the day before on the AC Chile Tumblr and that the latter published it on its facebook page the "clean" logo on March 4th.
March 15th, 2013 - IGN published the second image, in this one we see some sort of cryogenic lab at Abstergo. AC Chile publishes the picture on March 9th.
IGN starts a whole media process in which all the specialized press participates in the specialized press in the world, the images and the sound of Rising Phoenix are expanding beyond the world of Facebook.
The online store Xtralife (one of the most important in the Spanish territory) starts the preorders of the title. The release is scheduled for PsVita on October 10th, 2013.
November 3rd – On the web everyone starts to see the picture of the Easter Egg in ACIV: Black Flag. Then it was time to go back and talk about Rising Phoenix after 7 months of silence.
After this little Timeline the article reveals to the reader the truth behind the rumor. The founder of AC Chile declares that after his page was closed in February 2013 he went on to work and tried to reopen it with a name that could symbolize "the rebirth from the ashes" of their project ended so suddenly and apparently he worked to create logo and viral material to advertise the new opening. All of this, however, was misunderstood and from the images came a great misunderstanding that led to the creation of this new gaming urban legend which actually caused the inclusion, albeit ironic, in Black Flag, which pleased the creator and that led him to hide the truth.

These statements can be found in this interview: Link

AC Center, however, countered: You readers will say "Yes, but Rising Phoenix appears in the game! How is it possible that it is a Fake?". The article then shows a series of comparisons that display how in reality the Rising Phoenix leaked pictures have been taken from two artworks, one belonging to the concept arts of Wolfenstein by Matthew Donatelli and the other belonging to some concepts of a certain Jorge Barros.



I start by saying that everything I write is not meant to be an attack to AC Chile or to Alex, who is a fan of ours and a fellow and I take this opportunity to greet him.

However:

Access The Animus was founded in May 2013, the busiest time of the season, between the post-AC3 uproar and what was born from the pre-AC4. This period was arguably (and, paradoxically, to a certain extent) a very prosperous for many Facebook pages focused on Assassin's Creed and we, as fans, were very careful in looking at all of these movements. So after reading this article I was puzzled by reading some points of the timeline and so I went to look at the AC tumblr Chile. Going back to the February / March period I noticed two things:


There are no Tumblr where the images of Rising Phoenix are published.
On March 7th there is an article by Alex, where he warns the community that after the Facebook page was closed on March 4th (3 days after closing and not February as AC Center says AC Center) this is reopened again under the name AC Chile.
Link
This in fact does not surprise me because both I and many other fans of AC Chile remembered that the images were published on the page and on the same day the page was closed. Many of us thought that this was due to a "legal" action by Ubisoft because of the publication of material without consent or however leaked from Facebook pages. That said, the idea that the pictures were born after the end of the page to create a new one will not find support since they were published before it was closed, when the page was on his first "edition" and had six thousand fans.

Second point. It 's strange that Ubisoft has never clarified the issue . In the world of video games usually when a rumor acquires a certain importance ( and we are talking about the world press ) the manufacturer tends to take over to provide explanations, quite rightly, to the public - ( IGN even drew up a Focus On this summer on RP ). However, in seven months Ubisoft hasn't showed up and slowly the story was set aside.

Third point. To the question " Yes, but Phoenix Rising appears in the game ! How is it possible that it is a Fake ?" AC Center shows evidence of the counterfeiting of the images. This obviously means that the only images of the game that we have so far prove false and outdated as it is impossible that Ubisoft made use of graphic material of which it doesn't have the rights ( Wolfenstein ) . But in Black Flag we see a third image , totally new and unpublished , which portrays the "Animi room" in the Abstergo headquarters of the Vatican, as seen in AC2 and AC3 . This makes the image independent from the others and again valid . We must say that Darby McDevitt repeated several times that within the game there would have been some elements that tried to "mimic" the players, but as I and many of you may know, these can be recognized in many elements and therefore not attributable exclusively to this .

Fourth and last point. The word "Phoenix" lately has carved itself a special place in the mythology of Assassin's Creed. In one of the "C.Tag" from AC: Initiates from the past months, we found some references to Project Phoenix, a project belonging to the SETI (Search for Extra Terrestrial Intelligence) aimed at finding intelligent life by analyzing radio signals financed with private funds (private funds that in the plot of AC, become Abstergo funding). Obviously this can have different interpretations, but it is fair to keep in mind these references or repetitions.

However, the elements are a lot and maybe we got a little 'auto -influenced" by that bit of disappointment as opposed to the hope that one day all the coincidences mentioned above do pop out in a nice announcement by Ubisoft and that that is not just the result of a long joke!

Greetings to all!




comments powered by